Viewing a document (pdf)#
Internal pdf viewer#
TeXstudio has an internal (built-in) pdf viewer that lets you view your pdf documents. The viewer can be embedded or window-based (in a separate window). The former uses an area to the right of the editor, the latter uses its own window and gives the user more options. The viewer can be opened by clicking the View button or by pressing the F7 key.

Preview#
When optimizing small structures visually like tables or formulas, various compilation runs may be necessary to reach a final state. Compiling a large document may take longer, so that is inconvenient for these tasks.
TeXstudio offers a preview for this circumstance. The preview can either be inline, i.e. right below the previewed text, as tooltip, in the preview pane or in the embedded pdf viewer. The selection is done in the configuration or in the submenu of main menu Idefix/Preview Display Mode.
Inline Preview#
The inline preview is started with selecting the interesting text and then pressing Alt+p or using the context menu on the selection. An inline preview can be closed with context menu (right-click) on the preview.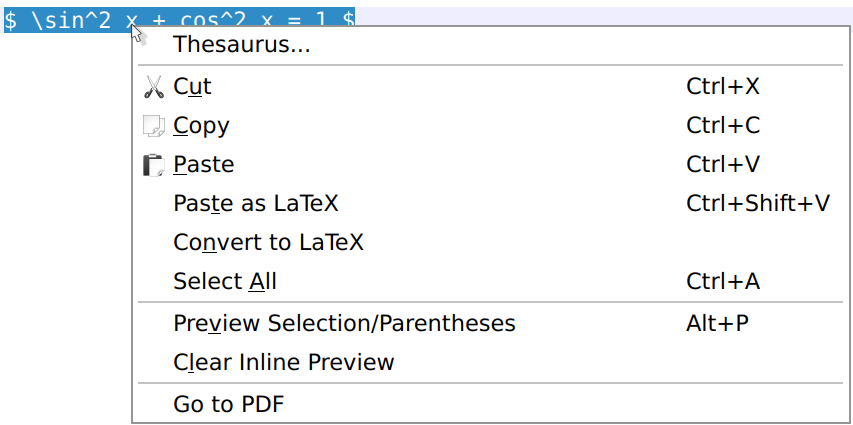 Tooltip preview#
A tooltip is created when hovering over the delimiters like $ of a formula. It takes a moment until the preview can be presented as it is compiled when the preview is started.
The preview is also available for colors and images.